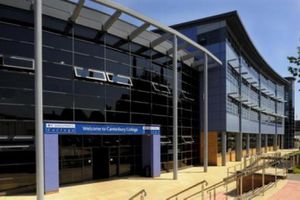 My company
I worked in Canterbury college which is located in the center of Canterbury. There are 800 employees. It was created in 1947. I worked with the team specialized in the water and heating systems and maintenance of the college. I met my mentor during the first day of my work placement. His name is Mickael Powel and he is 58 years old. He is a plumber and he is a very nice man because he is always smilling. In addition he is a very good teacher.
A typical day of work
A typical day at Canterbury college is a day that begins at 9.45 a.m.
We go to check the numerous radiators to verify their temperature with a laser thermometer. Yet if one of them doesn't work, we bleed it, and we open the T. At 12.00, we have lunch and at 13.00 p.m. we go back to work. We check the taps and the cold and hot water with a laser thermometer, and we regulate the temperature if necessary. after this job we come back to the workshop at around 15.30 and wait for the emergency calls.
The safety rules are taken very seriously : we must wear safety shoes, protective gloves and working clothes.
I appreciated this work placement because my mentor let me do many works whereas in France mentors don't leave me so much freedom.
Dalil N.