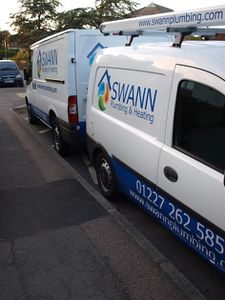 During my work placement I worked in Swann Plumbing company. Swann Plumbing Services is a small family run plumbing and heating business situated in Whitstable, Kent. Simon, my mentor, has been working in the plumbing and heating industry for many years and has worked for large and small companies but has always been disappointed by the level of service provided to customers. Our aim is to provide a level of service we would expect as customers. We installed boilers, toilets, sinks, radiators. We repaired leaks on copper pipes.
In the morning, I took the bus number 8 and 4 to meet my boss in front of his house.
At 9:00 am we went to the building site. The tools were the same as in France.
English people don't eat for lunch whereas in France people take a break for lunch time. At the end of the day, Simon took me to my host family's house.
I liked my work placement with Simon, he is a very nice person and he was very patient concerning the communication problems.
I gained a very good experience. I would be happy to have the same boss in France.
Edyne.